by William Henderson, Vice President / Head of Investments
Last week seemed to be a tale of two markets. After starting the week off lower Monday and Tuesday, the markets came roaring back in a big way by week's end after earnings announcements surprised to the upside and weekly unemployment claims declined much further than expected. Last week, the Dow Jones Industrial Average rose 1.6%, the S&P 500 Index increased by 1.8%, and the NASDAQ moved higher by 2.2%. Investors took advantage of the market's 5% pullback in September and continued to pour money into equities. Last week's rally added to an already strong year. Year-to-date, the Dow Jones Industrial Average has returned +17.0, the S&P 500 Index +20.4% and the NASDAQ +16.2%. Bond yields continued to rise as expectations of tapering of bond purchases by the Fed and higher short-term rates next year crept into fixed income traders' plans. The 10-year U.S Treasury closed the week at 1.61%, 86 basis points higher than one year ago but still modestly below the March 2021 high of 1.74%.   
As mentioned, the economy and resultant earnings announcements continue to surprise to the upside suggesting there is still plenty of steam left in the economic recovery. A clear indication of the strength of the economy was last week's decline in unemployment claims. See the chart below from the Federal Reserve Bank of St. Louis showing the continued precipitous drop in unemployment claims over the past year and reaching the lowest level since March 2020. 

One piece of information released last week was certainly good news for retired folks and Social Security Income recipients. According to the Social Security Administration, payments of America's 64 million retirees will increase by 5.9% next year in the retirement benefit's biggest cost of living adjustment (COLA) since 1982. While this "wage inflation" adjustment seems like good news to retirees, the reality is that the cost goods and services in the U.S. is increasing at recently unprecedented levels. Last week's release of September CPI (consumer price index) showed inflation is continuing to heat up. CPI was up 5.4% year-over-year due mostly to food and energy prices, while Core CPI (ex food and energy) was up 4% year-over-year. (See chart below from Bloomberg).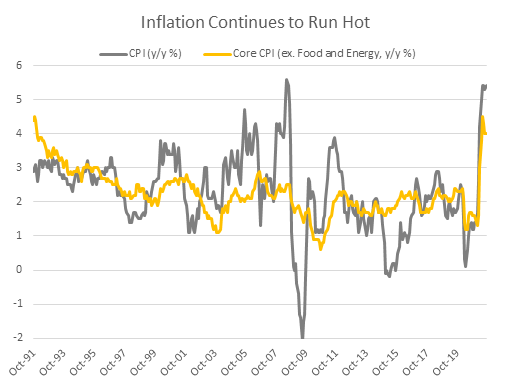 Clearly, the Fed has successfully engineered inflation (as was their plan all along). And having annual inflation well below their 2% target level, we are going to get numbers well above 2% to move the average number higher. The question for the markets and investors is: Will inflation be transitory or permanent? Generally, energy prices can be transitory as supplies eventually catch up to demand and prices adjust. However, wages and food price increases tend to stick around much longer. Large and powerful unions such as the Longshoremen and Teamsters will use the current supply chain disruptions and cargo ship back log to negotiate labor contracts more favorably for workers. Conversely, continued improvements in technology such as microchip capacity and cloud storage prices will put negative pressure on inflation and resultant prices.
The concerns with China seem to have softly abated this week as the Chinese Central Bank (PBoC) reported that the problems with Chinese real estate developer Evergrande, are unique to the company and not endemic of the overall real estate market in the country. Additional positive news for the U.S. came around shipping rates from China. China's official Global Times reported last week that shipping rates from China to the U.S. west coasts are down 22% over the past 4 weeks. While west coast ports are still congested, the tide may have turned on the supply of available goods which will clearly help to ease inflationary pressures. As mentioned above, earnings announcements from companies last week surprised to the upside; specifically bank and financial stocks topped analysts' expectations with names like Goldman Sachs showing higher revenues from trading and investment banking. The threefold pressures on economic growth: positive earnings releases, unemployment claims dropping, and softening of global supply chain disruptions all point to the potential of solid market returns for 2021. Inflation will remain a concern and COVID-19 variant cases, while lessening globally, could impact the economy going forward if we see a spike later in the year. As always, keep to your long-term financial plan and understand the markets are more efficient than investors.