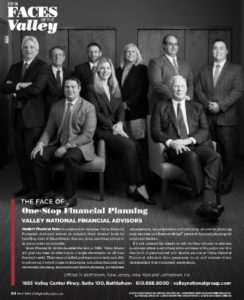 Our Financial Advisors are passionate about getting involved and making a difference in our Lehigh Valley community. Just a few bits of exciting news include…
Our CEO has been selected to present his ideas at "90 Ideas in 90 Minutes" on June 14 at DeSales University. Click here to read more about this LV Business event, and learn more about Matt.
Senior Vice President Laurie Siebert is featured in the Pennsylvania CPA Journal's Federal Tax Reform Guide. Her article covers Tax Reform's Effect on Charitable Giving. Click here to access the guide, and more.
Check out the May issue of Lehigh Valley Style for a great photo of our financial advisors on page 82 – The Face of One-Stop Financial Planning!
MORE NEWS is available on our website. Or by following us on social media (Facebook, Twitter, LinkedIn).