#TeamVNFA is the proud recipient of a 2020 Excellence in Education Award. Yes, you read that correctly.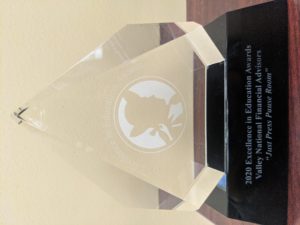 Our 2019 Volunteer Challenge project was the creation of a "Just Press Pause" room at Paxinosa Elementary in Easton. We were able to transform a classroom into a safe, relaxing space for teachers and staff to rest and recover from the stresses of life and their important work helping children.
Due to the pandemic, the award ceremony was delayed and then canceled. What a delight it is for us now to receive this beautiful award, along with a certificate and letters of nomination. Our team is so proud to have made such an impact on our community. Our sincerest thanks go out to everyone who helped make this project a reality, including Volunteer Center of the Lehigh Valley for helping align us with our now life-long friends at Paxinosa and Communities in Schools.
WATCH a video about our "Just Press Pause" project. LEARN MORE about the annual Volunteer Challenge.