by William Henderson, Vice President / Head of Investments
For the week that ended February 19, 2021, the Dow Jones Industrial Average returned a nominal +0.2%, barely positive while the two broader indices were both negative for the week with the S&P 500 Index falling –0.3% and the NASDAQ –1.1%. With last week's mixed results, returns nonetheless remained positive on a year-to-date basis. Year-to-date, the Dow Jones Industrial Average has returned +3.2%, the S&P 500 Index +4.2% and the NASDAQ +7.8%. For the week, the 10-year U.S. Treasury note moved significantly higher by 13 basis points to a post-pandemic 1.29%.
No one can question, that the economy still is not "normal," but the markets sure are acting that way. Year-to-date returns, noted above, are decent and certainly point to a positive year overall. Further, last week's economic releases around industrial production, housing and retails sales were strong. Everything seems to be COVID-19 related. According to Johns Hopkins University, fresh COVID-19 cases for the week ending Feb. 14 were the lowest since October, at 2.7 million, a modest 2.5% increase in total infections from the previous week, the weakest gain since the start of the pandemic and less than half the rate seen a month earlier. Lastly, corporate profits (EPS) announcements continue to beat expectations, credit spreads are narrowing and capital expenditures by corporations are increasing. Soon, we are going to see rebounds in the sectors that were most battered by the virus-related economic shutdown.
Even as Treasury Secretary Yellen calms warnings about inflation, investors are fleeing bonds amid fears that inflation with heat up and return. The rise in the 10-year Treasury to 1.29% last week certainly shows investors are worried about bonds. Yields move opposite direction to prices and rising bond yields can hurt investors. The bigger story here is not bonds but instead the stock market which has multiple tailwinds supporting further positive movements. President Biden's stimulus package, whether it is $1.4 or $1.9 trillion is going to be huge. Treasury Secretary Yellen and Fed Chair Powell are going to be patient around inflation moves and fully supportive of the administration's efforts with fiscal stimulus. As mentioned, COVID-19 cases are down, the vaccine is being widely distributed and national herd immunity is expected by mid-summer or sooner.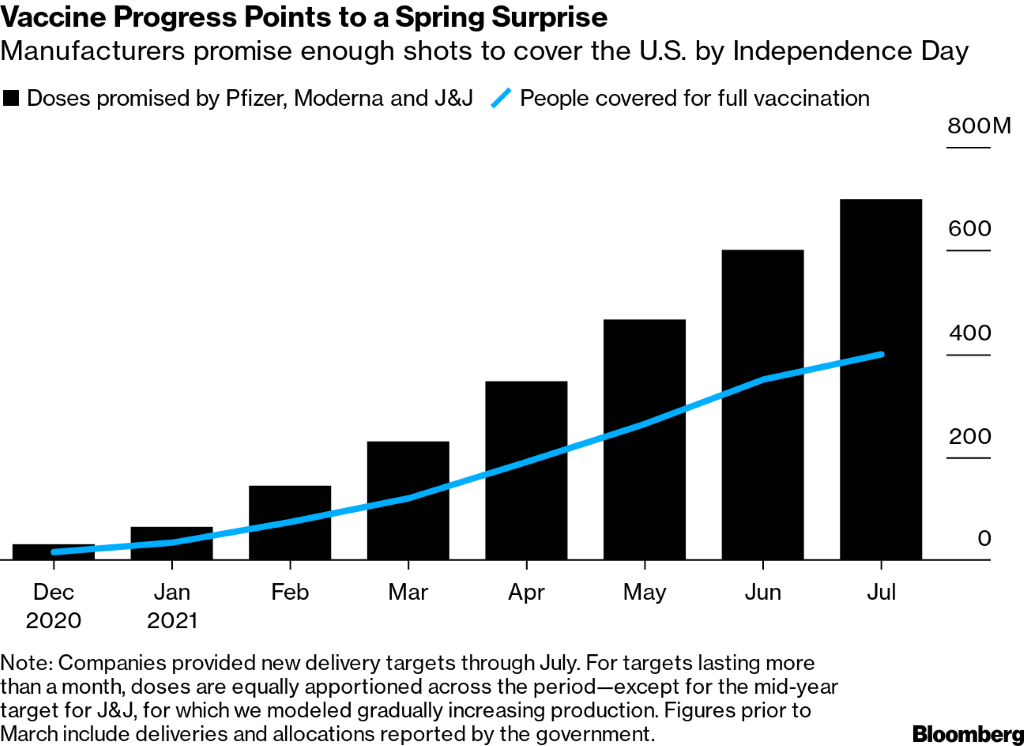 Things may not be "normal," but normal is closer than we think. A common misstep all investors should avoid is trying to time the market, and 2020 showed just how detrimental timing the market could be for investors even in the short term. Stay focused on the long-term objective and realize "normal" is coming back.