Last week, our team got to deliver special gifts to both the Volunteer Center of the Lehigh Valley and Second Harvest Food Bank of Lehigh Valley and Northeast Pennsylvania.
On Thursday, Senior Vice President Laurie Siebert and CEO Matt Petrozelli dropped off a check to purchase 12,865 meals through Second Harvest thanks to our partnership with WDIY 88.1 FM. During their Fall Pledge Drive, for every $100 raised VNFA donated funds directly to Second Harvest to provide 21 meals for families in need.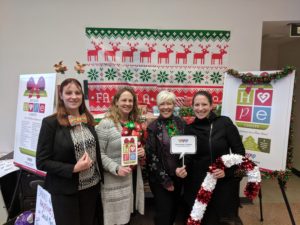 On Friday, a small group from our Bethlehem office delivered more than 40 Holiday Hope Chests to the Volunteer Center to be distributed to local children this holiday season through participating non-profits. The program provided 35 local organization with 7,500 wrapped and filled shoe boxes for underprivileged children.
All of us at Valley National would like to extend our sincerest thanks to all of our clients and friends who helped us make these contributions by supporting our community initiatives. We look forward to continuing to make a difference with you in 2019!